Lights, camera, Oscars!
In case you live in a cave and missed the 89th Academy Awards last night, here is a recap of what you missed.
1) Faye Dunaway announced the wrong winner for best picture
You've probably seen it all over social media today. The cast of "La La Land" got on stage. Then after an awkward interception, they announced that "Moonlight" really won. It was awkward, funny and slightly embarrassing.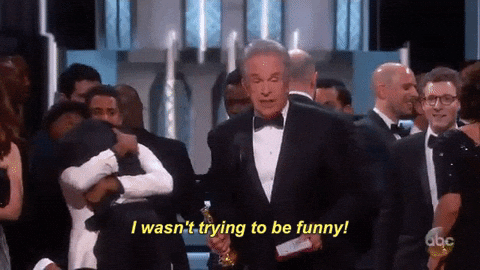 2) Jimmy Kimmel Hosted
He wasn't afraid to make a few political digs and threw shade at some of the stars in the room, helping to keep the night entertaining. One of my favorite moments was when he prompted a standing ovation for Meryl Streep's 20th nomination, ending with "We're going to have fun tonight. I hope we're going to have fun tonight"…
3) Gary from Chicago
Kimmel brought a tour bus of  unsuspecting "regular" people into the Oscars, and one man and his wife stole the show. Denzel got up and "married" them and Jennifer Aniston gave them a wedding present, all while taking lots of selfies.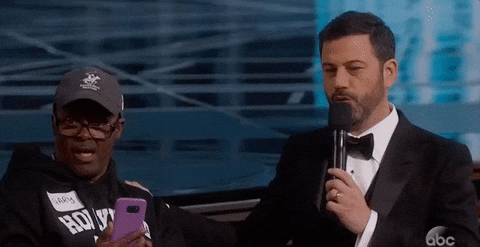 4) Kimmel and Matt Damon continued their feud
If you don't know about this "feud", you can catch up here. Kimmel poked at Damon throughout the show, and you could tell he really enjoyed it. He started with, "I've known Matt for a long time. When I first met Matt, I was the fat one." Later on in the show he added, "He handed what turned out to be an Oscar-caliber role over to his friend and made a Chinese ponytail movie instead," Kimmel said. "And that movie, 'The Great Wall,' went on to lose 80 million dollars. Smooth move, dumbass." All in good fun?

5) Notable wins and acceptance speeches
Throughout the night there was few memorable wins. Kevin O'Connell
won his first Oscar
after 21 nominations. He won for his work on "Hacksaw Ridge" and dedicated the award to his mother. Mahershala Ali
won best supporting actor
. His speech was charming. He thanked his teachers as well as his wife, who just gave birth to their daughter four days ago. "The Salesman" director Asghar Farhadi, didn't attend, but
won the best foreign language film
. In the speech delivered on his behalf he said: "My absence is out of respect for the people of my country and those of other six nations whom have been disrespected by the inhumane law that bans entry of immigrants to the US. Dividing the world into the 'us' and 'our enemies' categories creates fear. A deceitful justification for aggression and war. These wars prevent democracy and human rights in countries which have themselves been victims of aggression." The crowd  burst into applause.
---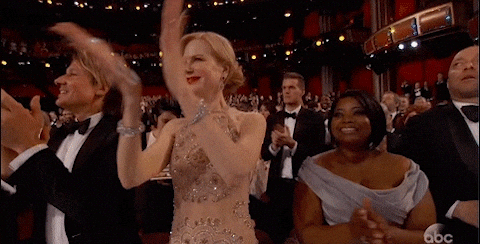 Oh, and we found out that Nicole Kidman doesn't know how to clap…